Better writing.
Better results.
Seamlessly edit for clarity and brevity in
Microsoft Word and Outlook.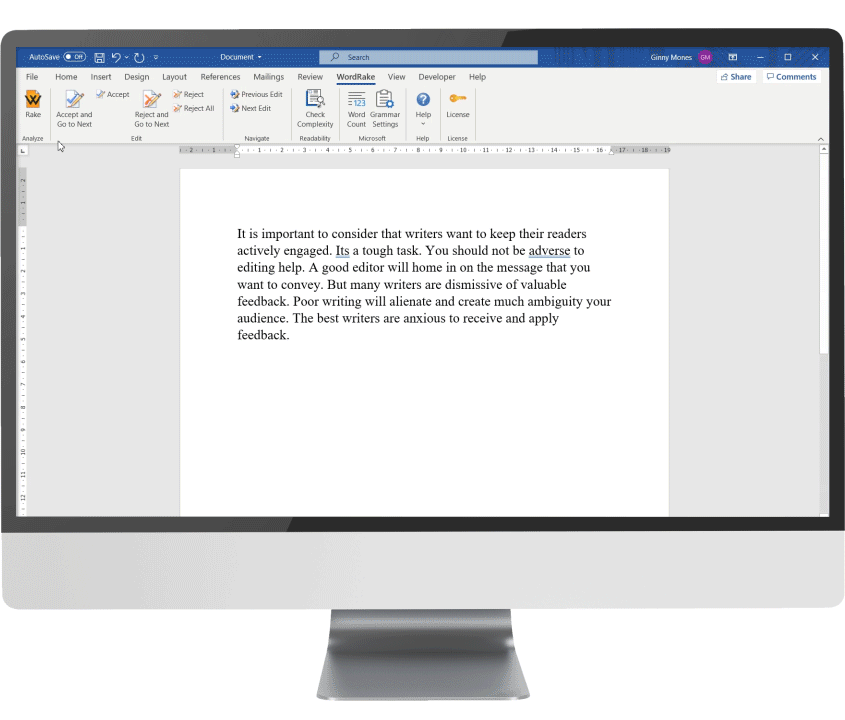 Our automated in-line editing software helps make your writing clear and concise. Receive editing suggestions in the familiar track-changes style.
Watch 30-Second Video
Get sophisticated editing advice.
Turn weak drafts into streamlined, persuasive prose that flows. Edit seamlessly in Microsoft Word and Outlook.
Reduce mistakes and edit instantly.
Our in-line editing software fits smoothly into your workflow and provides real-time editing feedback.
Go beyond spellcheck with WordRake.
WordRake cuts winding introductions, replaces boring nouns, and reduces legalese and jargon.
Engineered for maximum security
and confidentiality.
WordRake will never track usage, store personal or confidential information, or send your documents to the cloud.
Click to watch a 30-second demo!
Find out how lawyers, executives, marketers, and other professionals use WordRake to persuade and delight their readers.

"I love WordRake. It is by far the most sophisticated style editor out there, especially for legal briefs and other documents that are already good, but need tightening. A major improvement over MS editing functions, and no competitor even comes close."
Philip Nelson
Lawyer, Knobbe Martens

"WordRake is one of the only truly useful enhancements to Word's core functionality that I've seen released in the last ten years."
Jack Newton
CEO and Co-Founder, Clio

"WordRake helps me cut through wordiness and clarify ideas. It draws attention to places where my translation is too literal and suggests more concise language."
Erin Goedhart-Stallings
Owner, Stallings English Language Services
Improve your writing today.