Meet your ideal editor.
Meet WordRake.
Edit for brevity and simplicity in Microsoft Word and Outlook.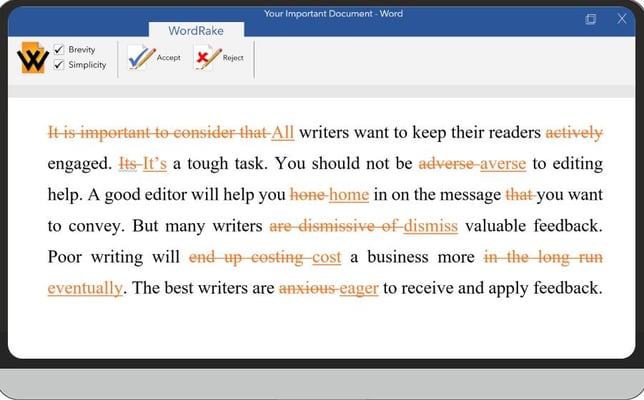 WordRake offers over 35,000 algorithms to improve professional writing using the familiar track-changes style.
Watch 30-Second Video
Editing Software for Professionals
Streamlined. Sophisticated. Seamless.

Simple and straightforward in-line editing for professionals. Seamlessly works in Microsoft Word and Outlook.

Instant. Intelligent. Insightful.

In a single click, improve the aspects of professional writing that matter most: clarity and brevity.

Accurate. Appropriate. Actionable.

Thousands of algorithmic rules work to give accurate context-specific feedback and offer solutions.
Click to watch a 30-second demo!
See how professionals like you use WordRake

"I love WordRake. It is by far the most sophisticated style editor out there, especially for legal briefs and other documents that are already good, but need tightening. A major improvement over MS editing functions, and no competitor even comes close."
Philip Nelson
Lawyer, Knobbe Martens

"WordRake is one of the only truly useful enhancements to Word's core functionality that I've seen released in the last ten years."
Jack Newton
CEO and Co-Founder, Clio

"WordRake helps me cut through wordiness and clarify ideas. It draws attention to places where my translation is too literal and suggests more concise language."
Erin Goedhart-Stallings
Owner, Stallings English Language Services