Balancing Complexity and Brevity
To write a short message appropriate for a smartphone screen, it's tempting to strip away all formalities and reduce your analysis to the minimum. But legal writing expert Bryan Garner urges lawyers not to assume informality and to avoid oversimplifying a complex or messy legal topic merely because the memo is in electronic form.
So how do we balance the limitations of screen reading with the complexity of legal work? As we wrote in our eBook The Art & Science of Writing Business Email, put the main point first, then work your way into the details. Professor Joe Regalia recommends starting with a summary of takeaways or action items before launching into your analysis. He suggests including:
Context to tell the reader what this email is about and why you are writing

Direct answers to questions you were asked

Summary of the most important points, such as key holdings, deadlines, or next steps
In 800 characters or less, address these points in a quick introduction and provide a roadmap for what to expect, then dive into your more formal analysis. (If your recipient is reading your email memo on an iPhone 11, she will see about 800–900 characters, so make those characters count.)
More on the Medium
Once you know what to say, think of how the electronic medium allows you to help you reader. Hyperlinking is a powerful solution in modern email. As Professor Margolis points out, the electronic format obscures the architecture of the document. If reading on a smartphone, the reader may easily lose track of context. And, unlike reading on paper, she can't easily flip to the table of contents to re-establish herself. But you can help by using hyperlinking for navigation.
Professor Margolis also notes that hyperlinking can add multidimensionality to your email memo. Now the content isn't limited to what's on your screen at the moment. With hyperlinking, you can link to supporting research and the reader can navigate to a case to confirm a key fact or holding, then seamlessly return to her memo.
Conclusion
Now that most legal memos are read on smartphones, getting to the point quickly is more important than ever. You have fewer than 1,000 characters to convince your reader that it's worth her effort to scroll to the next screen to read your legal analysis—so every letter and every word counts. WordRake will help you cut the clutter at the push of a button. This clear and concise editing software can make any email or document clearer and shorter. Try WordRake free for seven days!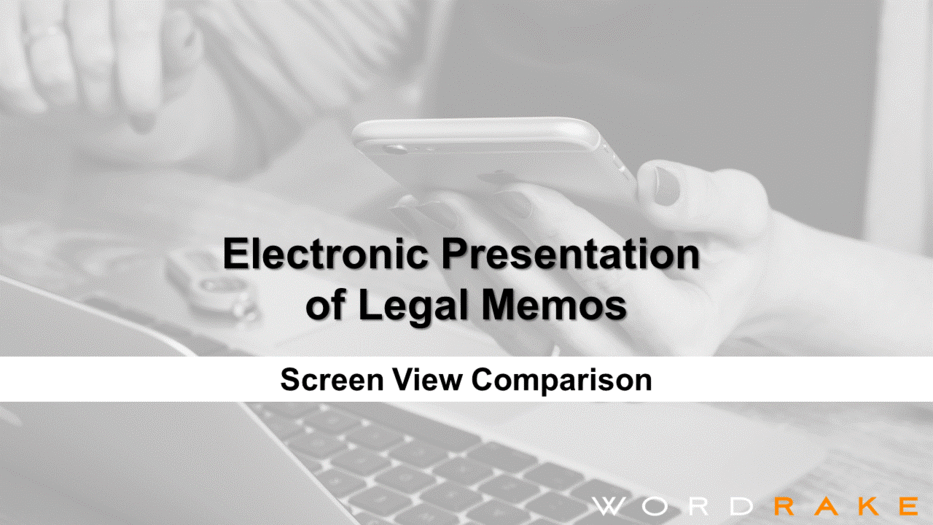 About this Example: For this example, we used an anonymized three-page memo written by a third-year associate at a reputable large law firm. The memo had been heavily edited and was considered good work by the partners who received it.
When "raking" twice, WordRake offered 31 suggestions, all of which were undoubtedly acceptable. After accepting the suggestions and reviewing again to tighten the document and shorten sentences, the memo was reduced to 1053 words (6871 characters, including spaces, and 98 lines). "Raking" the document increased the portion of the email memo initially viewable on a smartphone by 2-3%.
About the Author
Ivy B. Grey is the Chief Strategy & Growth Officer for WordRake. Prior to joining the team, she practiced bankruptcy law for ten years. In 2020, Ivy was recognized as an Influential Woman in Legal Tech by ILTA. She has also been recognized as a Fastcase 50 Honoree and included in the Women of Legal Tech list by the ABA Legal Technology Resource Center. Follow Ivy on Twitter @IvyBGrey or connect with her on LinkedIn.