WordRake for Microsoft Outlook
Get to the heart of business communication:
clear, concise email.
With WordRake, you'll skip the platitudes, cut the clutter, say what you mean, and get better results. Our finely tuned software checks for empty jargon, unnecessary words, useless phrases, and high-level grammar slips, then recommends thoughtful improvements and replacements. WordRake works with all forms of English and is designed for business and professional writing. So don't settle for basic grammar- and spell-check, upgrade your emails now.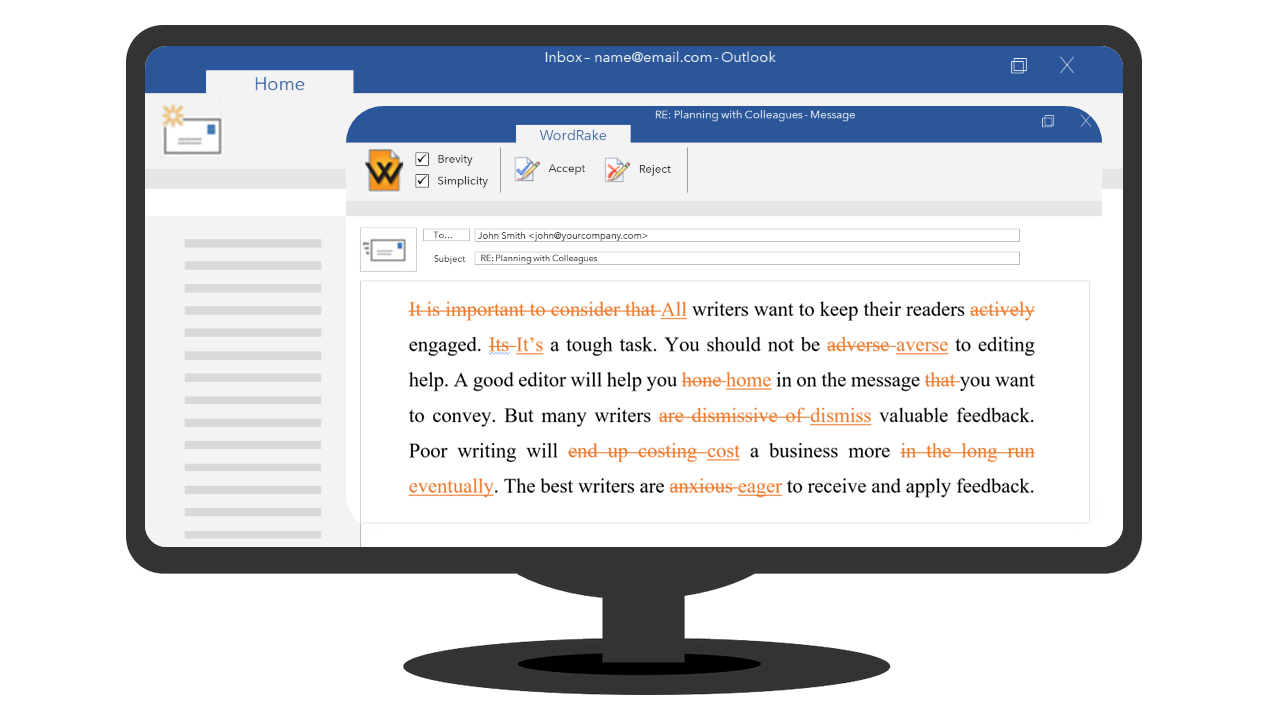 Available for Outlook on Windows

WordRake System Requirements
Mac System Requirements
(WordRake for Word)
Operating Systems:

Ventura, Monterey, Big Sur, Catalina, Mojave, or High Sierra

Applications:

Office 365*, MS Word 2021, 2019, or 2016
Not compatible with Word 2011 or web-only versions of Word
Windows System Requirements
(WordRake for Word and/or Outlook)
Operating Systems:

Windows 11, 10, 8, 7, Server 2022, Server 2019, Server 2016, Server 2012, Server 2008 R2
Applications:

Office 365*, MS Word and/or Outlook 2021, 2019, 2016, 2013, 2010, and Word 2007
*Not compatible with Outlook 2007, or web-only versions of Office 365
Edit with Ease and Elevate Your Message
Concise: Clear and concise emails get better responses and urge the reader to take action. Write effective emails that colleagues and clients will read.

Professional: Instantly enhance the polish and persuasiveness of your communication. WordRake upgrades your language and cuts the confusing clutter.

Targeted: WordRake reviews the email you're writing and makes suggestions, just like a colleague would edit an important letter in Word. But it won't edit other emails in the chain.

Convenient: No need to learn new software. WordRake operates within Outlook and leverages the familiar approach of Word's built-in tools. It's as quick and easy as using spellcheck.

Secure: We respect your confidential information. WordRake does not rely on user-reported data or machine learning because it never communicates with the cloud and never tracks usage.

Find Time for Feedback
What if editing your email took only seconds? In one click, WordRake gives you helpful editing advice to avoid embarrassment and streamline communication. WordRake tightens your emails, removes unnecessary words, and improves unclear phrasing. It helps you strike the right balance between direct and polite and saves you from time-wasting reply threads. Write better emails in Outlook today.