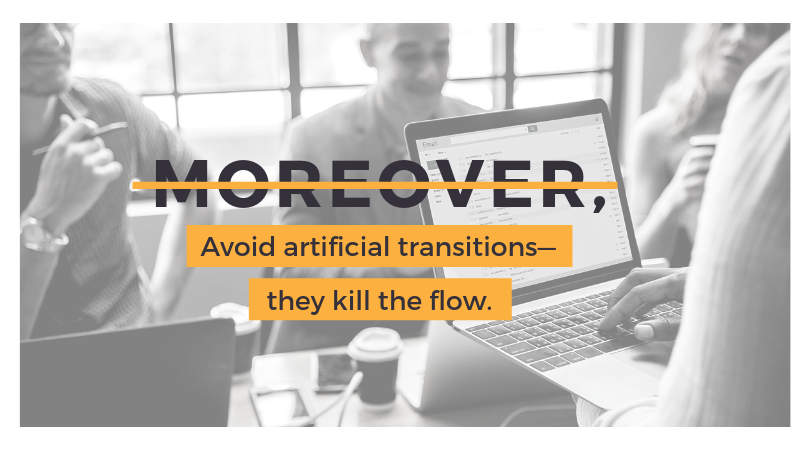 Don't Kill the Flow
Contrary to what many of us were taught, artificial transition words impede our writing's flow rather than help it. Transitions should feel natural and purposeful.
---
Additionally, And Eugene also reserved a power of appointment . . . .
Finally, In analyzing federal agency employee's motivations . . .
---
Rethink your word choice:
Avoid:

Moreover, Consequently, Accordingly, Furthermore, In summary

Try:

just removing the "transition" word, and if that doesn't work, try using the simpler transition words, like Also, And, But, Or, However, Nevertheless




Skip transition words that mean only, "Oh look, here's some more," and your sentences will naturally keep readers interested in reading further. WordRake can help you identify these artificial transitions and remove or replace them.
Read more about transition words in this Writing Tip.
Improve Transitions and Flow with WordRake
With a single click, WordRake ripples through your document checking for artificial transitions, dull phrasing, useless words, and other issues that distract from your message. It runs in Microsoft Word and Outlook, and its suggested changes appear in the familiar track-changes style, just like the example above.
Try WordRake and cut the clutter from your writing today!

Available for Mac or Windows