When asked to edit an author's work, how quickly can you turn around a document? If you're an editor getting paid a flat or per-word fee, every second you save adds to your bottom line. And if you're simply doing a favor for a colleague, you want to help them and get back to your own work quickly.
If you've already invested in software like WordRake to expedite editing and get directly to improving substance, then you're probably interested in saving a few more clicks. Here are three power editing tips to work even faster with WordRake.
1. Right Click to Accept or Reject
The fastest editors know that every mouse gesture or click away from your work counts. If you want to open and work in another tab on the ribbon while reviewing WordRake edits, you can remain on that tab and access WordRake's buttons by simply right-clicking the edit WordRake's suggested. Right-clicking on any edit will let you accept or reject it straight from the context menu.
2. Delete + Type to Edit While Raking
Seeing WordRake's suggestions can bring fresh perspective that sparks new ideas. If you decide you want to entirely revise some text because of a WordRake suggestion, you can delete the suggestion by pressing delete or backspace – you don't have to accept or reject first. You can also select the suggestion and start typing.

3. Bulk Accept or Reject
WordRake was designed to encourage you to review every editing suggestion individually. We believe you'll make better editing choices if you do—that's why there's no "Accept All" button. But if you want to accept or reject all suggestions in a section (for instance, if there's a quote or provision that cannot be changed no matter how poorly written), you can. Highlight the section you'd like to change in bulk, then click the "Accept" or "Reject" button. When you click the "Accept" or "Reject" button, WordRake will accept or reject all suggestions within the current selection. This can be handy for quickly removing all suggestions from a paragraph or doing a targeted "Reject All."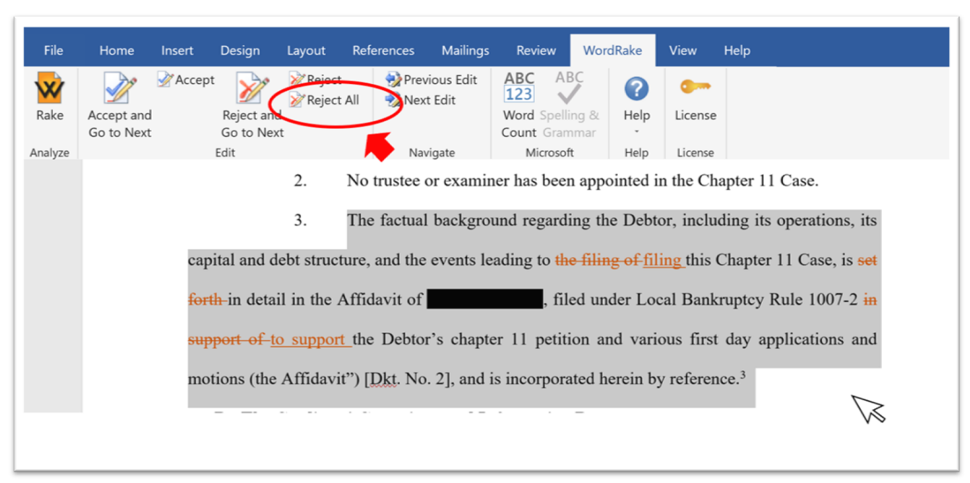 Conclusion
WordRake is the only editing program available that presents its suggestions in the familiar track-changes style. With the click of a button—in seconds—WordRake shows all suggested edits in-line. With these tips and tricks, you can work even faster with WordRake. If you're an editor, you'll increase the value you earn for an editing project. If you're editing as favor to a colleague, you can make your suggestions quickly. And if you're editing your own work, you'll have more freedom to skip around and layer edits. If you haven't tried WordRake before, you can make even better use of your free trial with these and our other WordRake tips.
About the Author
Ivy B. Grey is the Vice President of Strategy and Business Development for WordRake. Prior to joining the team, she practiced bankruptcy law for ten years. In 2020, Ivy was recognized as an Influential Woman in Legal Tech by ILTA. She has also been recognized as a Fastcase 50 Honoree and included in the Women of Legal Tech list by the ABA Legal Technology Resource Center. Follow Ivy on Twitter @IvyBGrey or connect with her on LinkedIn.